The Armadillo Crash Cushion is an aluminium covered crash cushion designed to provide protection for vehicle occupants and motorcyclists following a collision with a roadside hazard, and to protect roadside assets from vehicle impacts.
Suitable for use on local and low speed roads, the Armadillo Crash Cushion is a repairable crash cushion system with market-leading short system lengths, which enable it to be installed where other crash cushions cannot be specified. The crash cushion can be repaired with minimal tools and equipment following an impact, because driven posts typically do not require replacement.
The Armadillo Crash Cushion meets D1 low permanent lateral displacement and Z1 vehicle exit box stadards, providing best-in-class performance.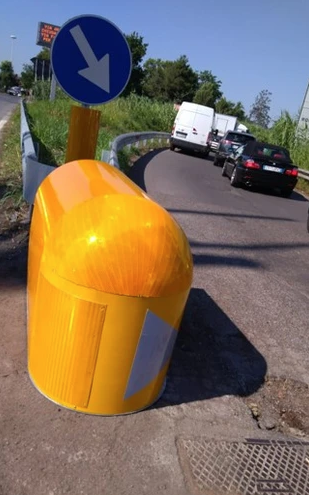 Technical details
| | |
| --- | --- |
| Width: | 700mm |
| Height: | 905mm |
| Length: | 1270mm |
| Compliant to: | EN 1317-3 |
We provide innovative solutions for a safer future, take a look at our range.