Our Falcon Automated Cone Laying Machine (ACLM) is a first-of-a-kind innovation to make cone laying operations safer and more efficient.
Developed by Highway Care and our partners to meet a first generation specification from National Highways, following engagement with the traffic management community, the Falcon ACLM has undergone a rigorous R&D process, and a comprehensive series of off- and on-road tests. It gained approval from National Highways for use on UK roads in February 2021, through an approved GG104 Safety Risk Assessment completed by TRL Ltd (Transport Research Lab), part of the TRF (Transport Research Foundation).
How the Falcon ACLM works
The Falcon ACLM improves highways operative safety and reduces the potential for driver distraction by removing any need for an operative on the rear of the traffic management vehicle.
Entirely controlled from the vehicle's cab, the Falcon ACLM can drop or collect cones in less than 10 seconds with complete accuracy and reliability. This not only ensures fast, efficient and consistent cone laying operations, but also prevents highways operatives from being exposed to the risk of working close to adjacent live lanes of traffic.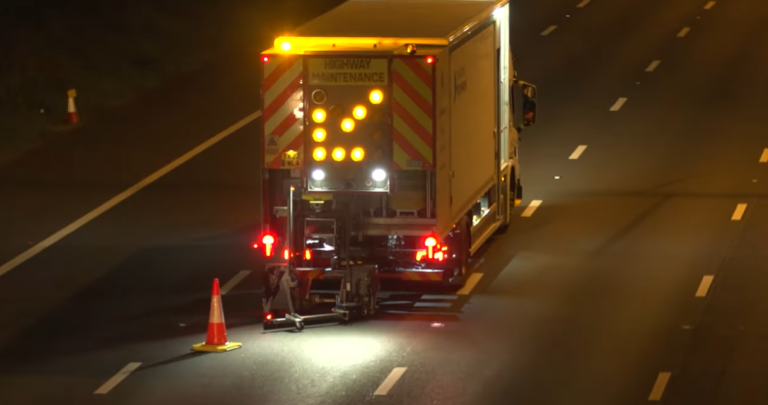 Greater accuracy, speed and consistency of cone laying
Cones can be dropped or collected in less than 10 seconds
Enables extended closures based on cone capacity
Reduces the number of operatives required for cone laying operations
Reduces the health & safety risk of cone laying operations
See the Falcon ACLM in action:
Safety benefits of the Falcon ACLM
In addition to protecting highways operatives from the hazards of working close to live lanes of traffic, the Falcon ACLM brings a number of additional safety benefits to cone laying operations.
Avoids manual handling, preventing the risk of musculoskeletal injuries
Avoids exposure to fumes from the back of the traffic management vehicle and other vehicles
Overcomes the risk of hearing loss due to prolonged exposure to traffic noise
Avoids the safety risks of walking cones in and out of position
Avoids the need for operatives to work outside in harsh weather for long cone laying shifts
Protects drivers from the risk of being distracted by manual cone laying operations
Conventional cone laying practices involve two highways operatives on the rear of the vehicle, where cones are stacked 15 – 20 cones high before being laid onto the road from the moving vehicle. Each cone is handled twice, with one worker picking each cone up from a stack on the vehicle and handing it to a second operative in a footwell so that it can be placed on the road. The Falcon ACLM lifts and places the cones automatically, and picks them up from the road into the vehicle when they are no longer required, protecting operatives from all the dangers involved in manual cone laying processes.
See the Falcon ACLM in action
Our Falcon ACLM is being deployed by Balfour Beatty through Connect Plus Services on the M25.
Take a look at some of our other innovative products for the highways industry.