The Claw is a drop-and-go hostile vehicle mitigation (HVM) barrier, suitable for protecting against vehicle incursions and vehicle as a weapon attacks at events, public realm locations and private sites.
Designed for ease and speed of deployment, The Claw is a surface-mounted HVM system that requires no fixing, foundations or anchoring. IWA 14-1: 2013 rated and VADS certified, it stops vehicles on contact, providing effective protection for people and assets.
The Claw can be customised with branding, advertising or wayfinding, and a number of accessories can be fitted to the HVM unit, such a cycle racks and refuse bins, giving additional functionality to this versatile HVM system.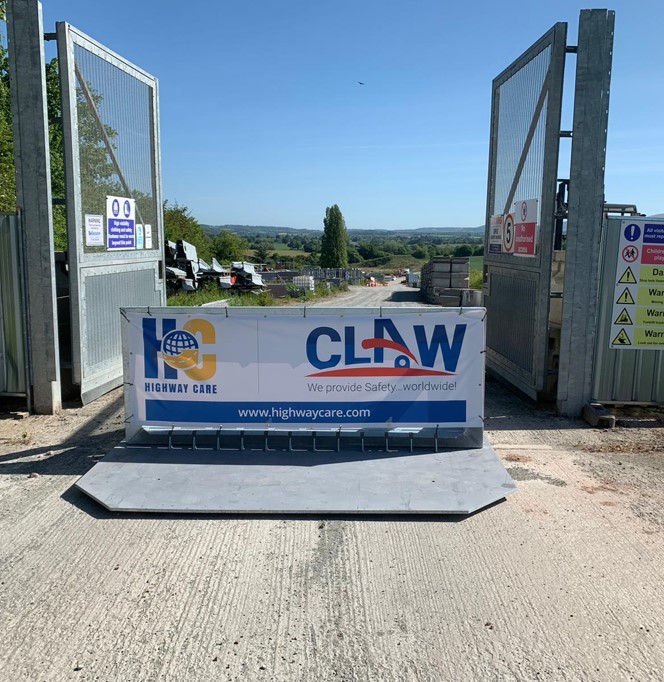 Technical details
Height:
1100mm
Depth:
2100mm
Width:
3000mm
Security Rating:

V/1500 (M1)/64/90:4.7

V/3500 (N1)/64/90:8.2

V/7200 (N3C)/32/90:1.2 (x2 side by side)

V/1500 (M1)/80/90:7

VADS certified
Drop-and-go ease of deployment
Multiple customisation options
Effective HVM protection for counter terrorism and site security
We work with contractors, facilities management providers and site owners to specify and provide The Claw vehicle incursion protection, and with our event security partner Crowdguard for events and counter terrorism requirements.
We have a wide range of HVM and perimeter protection systems to suit all your security needs.