ArmorWire™ is a high tension, low vehicle deflection cable barrier, which has been crash tested to NCHRP350, TL-4,TL-3 and EN1317 H1 & H2 containment levels. Designed to avoid sand build-ups, it is ideal for deployment in coastal and desert environments.
With a unique 'oval' shaped steel post design, with slots to accommodate three or four barrier cables at the required height, ArmorWire™ allows safe and predictable redirection of an impacting vehicle, as proven under NCHRP 350 and EN 1317-2 test conditions.
The innovative ArmorWire™ system delivers reliability, minimal inventory requirements, and exceptional performance, with extended maintenance and replacement intervals. Each ArmorWire™ post has a socketed concrete footing and has been designed for ease of installation without the need for additional parts or stiffening plates. Just one post cap completes an installation. ArmorWire™ has also been developed for ease of repair following an impact, with a best-in-class low part count.
Market-leading performance
Measured deflections demonstrate that ArmorWire™ is a top performing system. Proven to safely re-direct all kinds of vehicles – including small cars, pick-ups, single unit trucks and buses – from impact angles of up to 25 degrees and speeds of up to 100kph, ArmorWire™ has a proven test results and a formidable track record of vehicle containment.
The ArmorWire™ system has been designed, tested and accepted to both NCHRP 350 and EN11317-2 longitudinal barrier testing criteria, and all testing carried out on the system evidences safe and predictable vehicle trajectories, reducing the risk of any secondary collisions.
Complete safety solution
ArmorWire™ is available with NCHRP 350 TL-3 tested and approved terminal ends and is not susceptible to any snagging, vaulting or ramping issues, ensuring that road users are protected, both from accidental impacts and dangerous driving behavior.
The high-tension system provides exceptionally low deflection and a safe test ASI rating (A), providing an assurance of the very highest standards of safety.
Exceptional build quality
ArmorWire™ posts are hot-dip galvanized to EN1461, with optional powder coating available for harsh environments. Each three- or four-cable installation features seven-strand 19mm cables, which have been pre-stretched to ensure tension stability even in the hottest climates.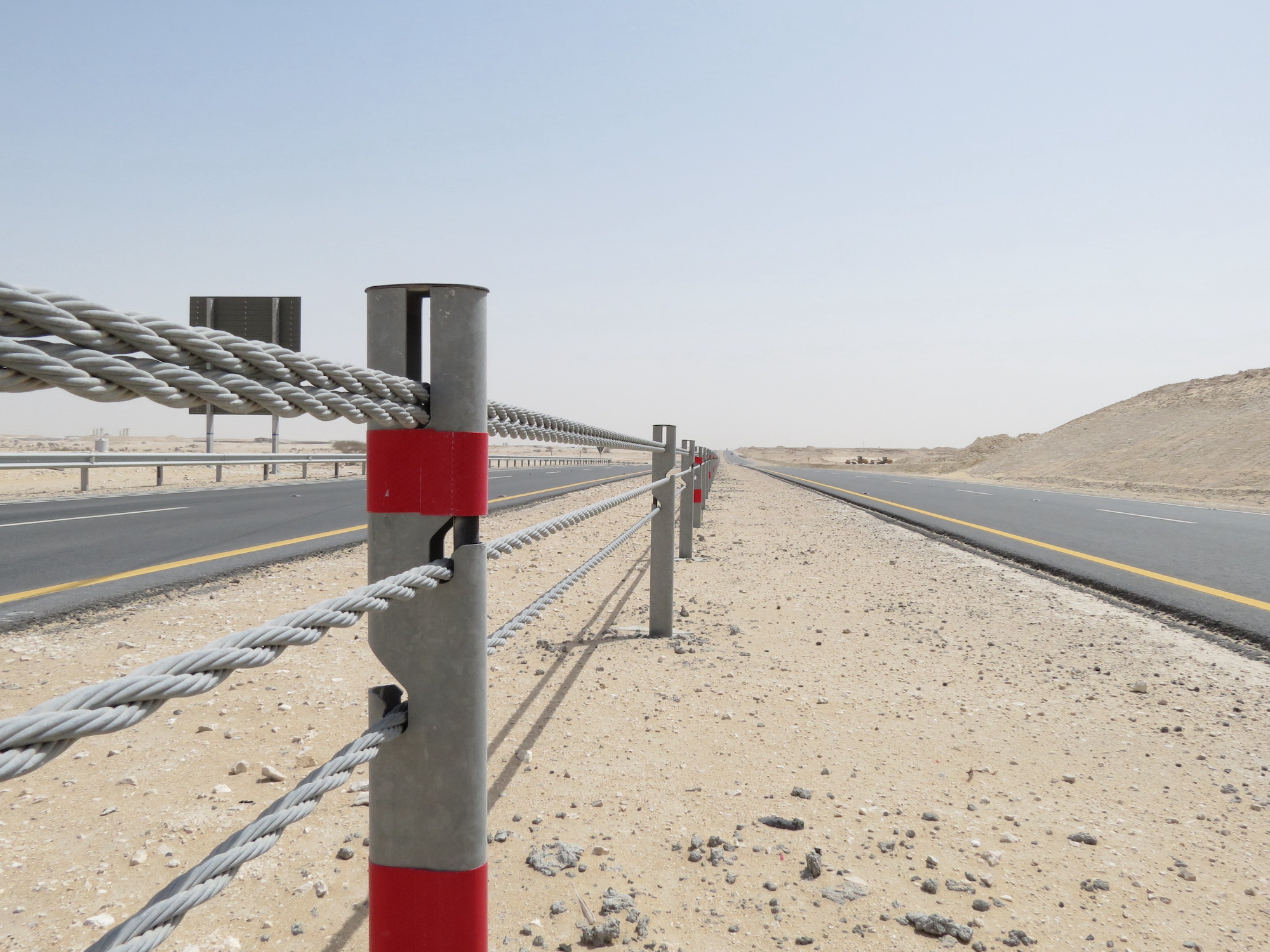 Technical details
Max height:
872mm
Post width:
97mm
Cable heights:
(3 cable)
530/650/770mm
Cable heights:
(4 cable)
530/650/770/790mm
Length of Need is 8m (Terminal end to LoN) Selection of line post and terminal foundation options to suit ground condition
Typical line post footings:
300øx 750mm (0.05m3), with concrete at 25mpa minimum strength
FHWA Acceptance to NCHRP 350 TL-3 & TL-4
Up to 5000m run length
Minimal components – socket, post, post cap & cable – mean faster and simpler installation & repair
No need for multiple system designs
Three and four cable options available to achieve TL-3, TL-4 & EN1317 H1 or H2 containment
Post spacing typically from 3m to 6m – enables appropriate cost vs performance specification
Socketed system for ease and speed of repair after impact
Oval post design has no sharp edges, protecting road users from injury
We have proven road safety solutions for the toughest of environments.