Highway Care Security's range of BSI PAS 68:2010 rated static HVM security bollards are an ideal solution for protecting pedestrians from vehicle as a weapon attacks and errant vehicles.
Designed to mitigate the risk of hostile vehicles, HCS Bollards have been rated with a 7500kg vehicle at 30, 40 and 50mph and can protect a variety of assets, including critical national infrastructure, sports grounds, shopping centres, and public realm locations.
Available in a range of finishes and manufactured in-house by Highway Care, HCS Bollards offer a simple solution to meet you permanent HVM requirements. The bollards can be installed in various ground types, often with standard foundation details, and bespoke foundation designs can be provided by our expert team for an additional cost.
Made from galvanised steel as standard, with the option of stainless steel covers where required, HCS bollards provide a cost-effective, zero maintenance permanent HVM solution, that can be integrated with our SecureGuard products for a complete hostile mitigation and perimeter security solution from Highway Care.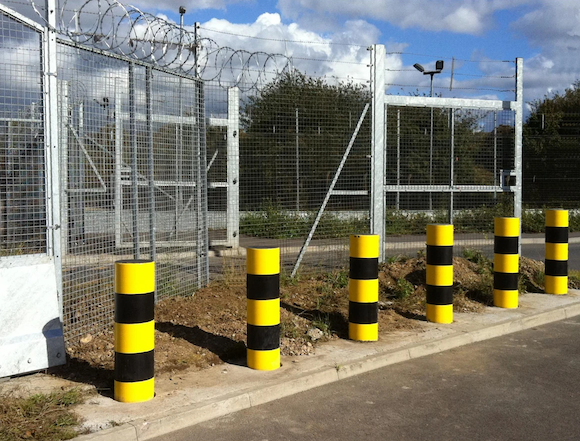 Technical details
HCS 48 Bollards

1000mm
Width:
219mm

Rated to PAS 68:2010

V/7500 (N2)/48/90:0.0/0.0
HCS 64A Bollards

1000mm
Width:
273mm

Rated to PAS 68:2010

V/7500(N2)/64/90:3.3/0.0
HCS 80 Bollards

1080mm
Width:
273mm

Rated to PAS 68:2010

V/7500(N3)/80/90:10.6/11.1
Suitable for various ground types
We offer a variety of temporary and permanent HVM and perimeter security systems.