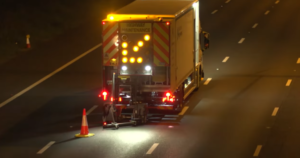 A first birthday is a proud moment in any parent's life! And with our FALCON ACLM it is amazing to see how far our newborn has come since the concept was first mooted. Here Russell How, Senior Applications Engineer, discusses the journey our automated cone laying machine has taken from great idea to fully endorsed cone laying machine and the exceptional safety and operational value it has delivered as part of the Balfour Beatty plc Beatty fleet.
————–
There will be no candles (we're all about safety and reducing risk here at Highway Care!) but we might take advantage of the excuse for a slice of cake this week as we mark the first birthday of a very special member of the Highway Care family: our Falcon ACLM (Automated Cone Laying Machine!).
Unlike marking the anniversary of an event or a person's birthday, the date when an innovation like the #Falcon #ACLM first entered the world can be hard to pinpoint. The ACLM began as a concept, it took years to develop, underwent off-road testing, on-road testing and trials, before beginning its first full deployment as a fully-fledged part of the Balfour Beatty plc Beatty fleet for their #M25 DBFO contract for National Highways through Connect Plus Services. So the anniversary we're marking this week is not the 'birthday' of when our team first clapped eyes on the fully-formed machine; it is the first anniversary of the ACLM officially becoming operational on a UK road.
The Falcon ACLM making its way onto the M25 to complete its first closure was the pivotal milestone in the machine's success because it opened up the possibility of this innovation being used to transform safety and working conditions for road operatives anywhere on the road network all over the country, while aiding efficiency and reducing the distraction of cone laying activities for road users. Every element of the development process was focused on gaining the approval needed to enable #highways contractors to benefit from both the creative thinking and the advanced technology that combined to develop a vehicle that truly articulates our purpose of delivering innovative solutions for a safer future.
So, this first birthday is a celebration of the whole product development journey. A recognition of the collaboration with our partners and supply chain, and their roles in facilitating and enabling the product development and validation process.
Developed by Highway Care with support from National Highways' Innovation Designated Funds programme, the Falcon ACLM underwent a rigorous design and research process, which involved a collaborative effort in overcoming various challenges. The vehicle was designed to meet a National Highways' first generation ACLM Specification, which was drawn up following consultation with the traffic management community and stakeholders – so, in a sense, the entire highways community had a hand in bringing the Falcon ACLM into the world!
A testing standard and matrix was developed to effectively evaluate the performance of the first systems in meeting the specification, and we partnered with Senn Engineering in Switzerland, using the approved specification and evaluation criteria, to develop a prototype machine. The prototype was put through its paces in a comprehensive series of off and on-road tests to expose the system to a range of real-world situations, including various road types, pavement, and weather conditions, before gaining a GG104 Safety Risk Assessment completed by TRL Ltd (Transport Research Lab) part of the TRF (Transport Research Foundation), and passing a series of factory acceptance tests in Switzerland.
The Falcon ACLM has been a gamechanger on the busy M25. Not only does it keep operatives out of harm's way by completely removing the need for workers to manually lay and pick up cones adjacent to live lanes of traffic, but it also protects them from the musculoskeletal damage that can be caused by repeatedly lifting, twisting and bending to lay cones weighing 8.5 – 10kg for hours at a time and in all weathers. The team have also completed their first extended closure with the ACLM, 6km, which couldn't be completed by the traditional methods due to the human impact of handling too many cones. This meant the same work being completed in just one night-time closure rather than 3 – time saved, operational efficiency savings and less disruption for road users – we call that a massive success factor! But don't just take it from me…
Technical Officer for CPS, Dale Hicks.FIHE, said of the ACLM: "The guys at the end of shift are refreshed, still alert, not fatigued – when you have manhandled 400 cones in a shift you are tired."
Danny Morton, a traffic management foreman and highways maintenance operative for CPS, said: "It's the way forward. Taking that physical aspect out of the job, with all the twisting and turning and manual handling, you are not going to have problems down the road with your back and elbows."
The Falcon ACLM may only be in its infancy, but it has come a long way since it was a glimmer in our design team's eye. After a year of successful deployment on the M25, it's exciting to look forward to where it will take its next steps!