A trial of Highway Care's RB50 by infrastructure contractor, FM Conway, has demonstrated how effectively the moveable vehicle barrier can enhance worker safety and deter members of the public from accessing work areas.
Working with our partners, Crowdguard, the RB50 was deployed during overnight works at the contractor's Mare Hill Road site in Pulborough, adding an additional level of protection against incursions into the road closure while operatives carried out essential maintenance. Transported to site in the back of a small pick-up, the four-meter barrier, with lights added for visibility, was assembled in under five minutes by a single operative. It was then wheeled into position and locked into place at a 18m distance from the works – over the the 12.4m certified stopping distance RB50 provides for a 3.5 tonne vehicle travelling at 30mph.
While there were no attempted hostile vehicle incursions at speed during the trial, there was an incident during which the RB50 prevented a member of the public from accessing the work area, holding strong during an attempt to move the unit, protecting operatives from potential harm. Importantly, the workers on site reported feeling safer with the RB50 system in place.
Rob O'Grady from FM Conway said: "We found the RB50 to be a sturdy barrier, that took only slightly longer to assemble than plastic barrier but made our operatives feel much safer with something so robust to protect them. Once assembled, the RB50 can be left in-situ, which means fewer gatemen required on site and if we needed to open the road to emergency services or work vehicles, we would be able to do so quickly and easily."
While the RB50 was developed for use as a hostile vehicle mitigation system to protect against vehicle as a weapon attacks in crowded spaces, it is gaining increasing interest from the highways community as an incursion protection measure. As a surface-mounted system, without fixings, it can be moved to different locations quickly and easily. It is quick and simple to set-up and can be configured to different widths to protect any size of road, making it a really versatile road worker protection system.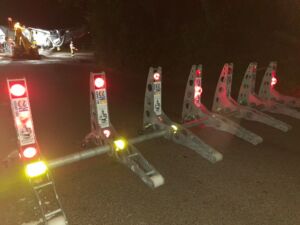 Kevin Davies, general manager of Highway Care added: "With vehicle incursions becoming an increasingly serious issue for contractors, trials like this are an important step forward in developing solutions to resolve this safety issue for our industry and we'd like to thank the FM Conway team for taking part."
Highway Care will be at Highways UK on 18 & 19 October at stand 164, where the team will be available to discuss the use of RB50 as a safety measure to prevent vehicle incursions.